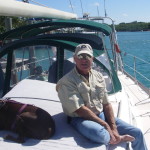 Dr. Bill Koch is a cum laude graduate of Palmer College of Chiropractic.
He began his practice near his hometown in the Hamptons on Long Island, New York. There he built one of the largest and most successful practices in New York, where he served a broad spectrum of patients ranging from the rich and famous to farmers and fisherman, local business owners and housewives.
After 30 years of practice in the Hamptons, Dr. Koch decided to satisfy his need for adventure and his desire to help people in places where there was no chiropractic care. He sold his New York practice, moved to his seagoing chiropractic office aboard his 44 foot motor yacht, The Coastal Chiropractor and set sail for the Caribbean, beginning his Adventures in Practice as the "Out Island Chiropractor." After several years https://www.spanishhighs.co.uk/sierra-nevada-gps-map-free-downloads.php of traveling by boat to take care of people in the islands of The Bahamas, he has returned to America and settled in the charming village of Mount Dora.
Dr. Koch has had a lifelong passion for helping people, and now enjoys serving the people of Lake County.
Equally passionate about his practice and his profession, Dr. Koch is a perennial student of chiropractic technology and all things related to natural healthcare. He has now expanded his outreach beyond his chiropractic practice to writing and teaching other chiropractors about advanced techniques in patient focused, results driven healthcare.
In his teaching and his practice he emphasizes the importance of providing personalized, holistic healthcare that treats the cause, not just the symptoms.